Beyond The Rainbow's End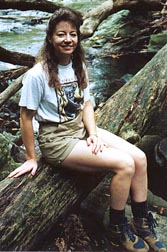 "Come, my friend - 'Tis not too late to seek a newer world...to sail beyond the setting sun, and all the baths of the western stars, until I die.
It may be that the gulfs shall wash us down:
It may be we shall touch the Happy Isles, and see the great Achilles, whom we knew.
Though much is taken, much abides;
and though we are not now that strength which in olden days moved earth and heaven;
that which we are, we are;
One equal temper of heroic hearts,
made weak by time and fate, but strong in will:
to strive, to seek, to find, and never to yield."
"Ulysses", by Alfred Lord Tennyson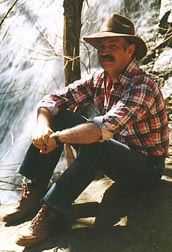 I give you the tale of an ordinary couple on an extraordinary quest - a four-year, 2000 mile pilgrimage along a winding footpath from Georgia to Maine. But it's far more than just a path from Georgia to Maine - it's a path from darkness to illumination, from novice to artist, from failure to redemption. It's a life-changing bit of Americana known as the "Appalachian Trail".


We are Bob & Coleen Bridges, lured from our midwest roots by a job opportunity to your nation's capitol. Life here began with 11 years as a corporate pilot, and Coleen doing a brief stint as a flight attendant before returning to her training as a nurse. Fun as corporate flying was, a life of ease at the airlines was even more enticing, and I (Bob) enlisted with World Airways - the "jack of all trades" in the airline business. We fly passengers, freight, military, charters, even hajji pilgrims to Mecca in a fleet of widebody DC-10's, MD-11's, and Boeing 747's. I found myself with ample time off and a desire for some new challenge we could share as a couple.
My "day" job - our new 747 at Hong Kong
So it was that on our 15th anniversary we climbed into a sea of cloud atop Mount Springer, GA, southern terminus of the Appalachian Trail. The days that followed would transform us from our lackluster professional personas to the wily and adventurous Wildfire* and Wounded Knee. In the kinship of the trail, we're no longer just a couple, but a part of a vast movement, an immense band of brothers each going to sleep nightly dreaming of a common goal - a mountain in Maine called Katahdin.

Four full years the quest for the mountain held us in its sway, until finally in October 2003 the path entered the famed "100-mile Wilderness" - the final hurdle on the road to Katahdin. With a dozen fellow hikers we slogged through the fords and over the summits, standing together at the threshold of the Promised Land on October 11 - Valhalla itself couldn't have been any more beautiful! Next morning at first light we all forged up the final climb, touching the sign at 10:12 am with an elation beyond description, and yet a sorrow that we'll never again duplicate the feeling of this moment.

These are the chronicles of our pilgrimage - enjoy them and share our quest!!


Links & Shows
We enjoyed a fleeting celebrity when the Washington Post carried an account of this hike in December 03.
It can be found here.

Pictures from our October 2005 Hawaii trip may be found here. (Webshots)

The highlight pictures from our 2012 vacation in the Tetons can now be found here. (Google's Picasa)

Just Added 3-16-2014!! Highlight pix from our 2013 hike of the Wonderland Trail circling Mt Rainier can now be found here. (Google's Picasa)

But what you really came for is the SlideShows :

You'll need a high-speed internet connection and speakers, but it's well worth the effort.
Have the sound cranked, and feel free to select Full Screen using the right mouse menu.
(Note: Proshow software currently works only on Windows Operating Systems. If this is your first Proshow viewing, the web page will install the 4 MB Presenter software needed to view the shows) Happy Trails!!

Our 2011 vacation trek took us to the canyonlands of Arizona and Utah. Wow!! I'm sure you'll agree the scenery is not to be missed, so catch the show at:

In 2010 our Alaskan nephews Jonathan and Jared joined us for a week in the highest of the Sierra's !! It was a high point for us as well, and you'll want to catch the 12-minute show at:

Our 2010 Whitney assault with J&J.

Our 2009 hike on the High Sierra Trail (the high Sierra's in California). 9 minutes

Our 2008 hike to finish the on the John Muir Trail (the high Sierra's in California). 10 minutes

Our 2007 hike on the Continental Divide in Colorado. 16 minutes

Our 2006 hike on the John Muir Trail (the high Sierra's in California). 19 minutes

Overnight winter camp in Shenandoah Natl Park. 3 minutes

Have the volume cranked, and feel free to select Full Screen with the right mouse key menu - Enjoy!!



The following list contains links to each sections we hiked - click on the departure point to go straight to the journal page for that hike. To return to this home page, click on the bear in the upper or lower left corner. I've also added the Off-Trail button to a page with an update from the rest of our lives. Enjoy!!
From
To
Date
Mileage
Front Royal VA
Harpers Ferry WV
Oct 1999
45.9 miles
Mt Springer GA
Dicks Creek Gap GA
Nov 1999
66.8 miles
Big Meadows VA (Shenandoah NP)
Panorama VA (Shenandoah NP)
Dec 1999
18.3 miles
Dicks Creek Gap GA
Wesser NC
Feb 2000
67.3 miles
Harpers Ferry WV
Smithsburg MD
Apr 2000
30.7 miles
Bellvale NY
Delaware Water Gap NJ
May 2000
78.3 miles
Erwin TN
Hampton TN
Jun 2000
65.6 miles
Stormville NY
Bellvale NY
Aug 2000
60.6 miles
Williamstown MA
Great Barrington MA
Oct 2000
63 miles
Caledonia SP (PA)
Smithsburg MD
Oct 2000
27.3 miles
Caledonia SP (PA)
Pine Grove Furnace PA
Nov 2000
20 miles
Hot Springs NC
Erwin TN
Feb 2001
67.8 miles
Port Clinton PA
Delaware Water Gap NJ
Mar 2001
77.5 miles
Duncannon PA
Port Clinton PA
May 2001
69.9 miles
Great Barrington MA
Stormville NY
Jun 2001
96.8 miles
Panorama VA (Shenandoah NP)
Front Royal VA
Jul 2001
36.1 miles
Wesser NC
Newfound Gap TN (Smokies NP)
Nov 2001
69.7 miles
Burkes Garden VA
Elk Garden VA (Mount Rogers SP)
Jan 2002
81.0 miles
Duncannon PA
Pine Grove Furnace PA
Feb 2002
45.1 miles
Burkes Garden VA
Pearisburg, VA
Mar 2002
57.5 miles
Big Meadows VA (Shenandoah NP)
Rockfish Gap, VA
Apr 2002
60.9 miles
Elk Garden VA (Mount Rogers SP)
Hampton, TN
May 2002
74.4 miles
Franconia Notch NH
Gorham, NH
June 2002
74.8 miles
Franconia Notch NH
Reel Brook Trail NH
July 2002
9.8 miles
Danby, VT
North Adams, MA
Sept 2002
75.8 miles
Rangeley, ME
Monson, ME
Oct 2002
105.5 miles
Newfound Gap (Smokies)
Hot Springs, NC
Nov 2002
67.1 miles
Rockfish Gap, VA
Dripping Rocks Picnic Area, VA
Dec 2002
13.5 miles
Pearisburg, VA
Daleville, VA
Mar 2003
91.9 miles
Gorham, NH
Rangeley, ME
May 2003
77.9 miles
Daleville, VA
Dripping Rocks Picnic Area, VA
June 2003
119.9 miles
Reel Brook Trail NH
Hanover, NH
Aug 2003
59.4 miles
Hanover, NH
Danby, VT
Sept 2003
78.1 miles
Monson, ME
Mt Katahdin
Oct 2003
114.5 miles
Total Mileage to date:
2,169 miles
Mileage left:

We're DONE!!

0 miles
*In AT tradition, each hiker is bestowed a trail name reflecting some aspect of their hike. Coleen's name refers to a small knee strap that eases her strain on the downhills; and Bob's to an event which occurred on our 1st night on the trail, in Rod Hollow shelter. The tab marked AT Q & A offers more info on AT traditions and definitions such as these.