The Test
¤
Can legs of clay surmount mountains of granite?

Linden VA to Harper's Ferry WV

A walk of over 2000 miles is no small undertaking, and it seemed only wise to "count the cost" - especially since my beloved had never spent more than a single night in the wild. We proposed a trial section - a nearby 45 miles of trail to test our equipment and our resolve; to see if this would prove a chore or a challenge.

10/20 Linden to Rod's Hollow Shelter (15.7 miles)

"Believe. No pessimist ever discovered the secrets of the stars, or sailed to an uncharted land, or opened a new heaven to the human spirit."
--Helen Keller

It is said that great adventures often follow inauspicious beginnings, and so it was with ours. I recall a deluge of Biblical proportion rousing us from a sound sleep; a fitting omen for the AT, as we'll soon find. Our shuttle, Jeanette, drops us apprehensively at the trailhead, and after a couple pictures for posterity (or forensic identification), we begin the steep uphill which will prove the norm for the AT. The trail beneath our feet is a patchwork quilt of autumnal beauty, and our occasional overlooks equally so, with fog and mist sweeping in sheets across the surrounding mountains. The forest canopy shields us well, and our first break is at Manassas Gap, giving us an intro to the shelters we'll come to love.

Our ascent from here immerses us eerily into a sea of cloud, the mountains totally obscured at higher elevations, and sheets of fog blowing across the trail in the lower spots. The rain ebbs as we walk, and during our lunch break we discuss our options for the overnight - I'm lightly considering a push on to Rod's Hollow - a tough first day; but Coleen seems surprisingly receptive.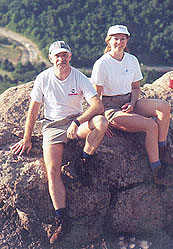 A pre-trial "trial"
What's so tough about this?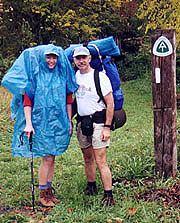 As we're to find out, rain's a big part of the AT.
Our pm break is at a spring amidst a sumac grove, and there we come across the 1st other hiker we've seen. It's "Slowjack", practically running down the trail southbound, sweating a small river under his fleece, long underwear, rain jacket, and stocking cap. We swap shelter and water info, and his good report on Rod Hollow confirms this as our destination. Passing Sky Meadows we're treated to a buck and doe leaping in a blaze across the path ahead, and soon after the roar of traffic heralds the busy crossing at Ashby Gap for almost an hour.

It's a relief climbing back into the silence of the woods, but we're tiring rapidly, our shoulders and hips aching. Darkness falls quickly, but our spirits are buoyed by a small sliver of clear skies to the west, creating a beautiful orange sunset. As night falls, we have to watch the trail intently, and the increasing rocks force us to watch our steps as well, slowing our progress. It's quite a relief to reach the path to the shelter, and as we stumble down it in darkness, we find a hiker bathing in the stream below.

With his fellow hikers they welcome us to a roaring fire, where everyone's starting dinner; but they clear us a place on the table in virtual indifference to us. This changes when I trot out my antique Svea stove, and in the priming process promptly transform it into a flaming cauldron, spewing flaming fuel out around the loose filler cap. In no time a very large area has been cleared for us on the picnic table, and I'm able to declare the evening's entertainment over. As I begin to cook, I feel a growing to the point I need to lie down, heading over to the shelter to lie down for a minute. Coleen's understandably worried, but after a couple minutes prone, I feel better, and once I start eating, all symptoms disappear - our best guess is dehydration. Our beef stroganoff's pretty good, and we settle into the upper loft (it's a "two-story" shelter), with the guys already spread out on the lower level.

After dinner we clumsily loft our gear in the dark, finally regaining our strength, and "Soot" chats with us for a bit around the fire. The guys' food complement is interesting - PB on bread, cereal for dinner, and one having a can of sweetened condensed milk his sister recommended. As the night wears on "Night Rider" and one other drift in from the dark, and we finally settle into bed about 10:00 as the guys stay up playing cards. As a nearby screech owl lulls us off to sleep, I lie back and reflect - 15.7 miles, we're dead tired, I've given Coleen a good scare, and almost burnt down one of the newest shelters on the AT - not bad for our first day. Can the trail take another 2000 miles of us?
10/21 Rod's Hollow to Bear's Den Hostel (9.9 miles)

"Every valley shall be raised up, every mountain and hill made low;
the rough ground shall become level, the rugged places a plain."
Isaiah 40:4

Coleen's pad is a bit thin for her taste, and it's too cold (35F) in my summer-weight sleeping bag, though we somehow managed to sleep in until 07:30, finding enough embers left to start a small fire as we dine on oatmeal and coffee. Soot's out first, hitting the trail long before us, with the others just rising as we're departing (all southbound).

Rod Hollow shelter - still standing despite my best efforts
The trail begins easily enough, but just as we're basking in our refreshed condition on this glorious clear day, we find a sign boldly emblazoned, "Beware, you are about to enter the Rollercoaster, we'll see you at Blackburn Trail Center if you make it out alive." The initial climb is easy enough, but the rest of the day will prove humbling indeed. The trail easily earns its namesake, and as the day warms, it's obvious we've erred in only bringing one liter of water between us. During our pm break we consume the last swallows, Coleen sacrificially giving me the lion's share, and settle into a well-appreciated level segment towards Bear's Den.

The final ascent to Bear's Den is a killer - a mere 400' climb on the map, but feeling far worse, and we rest frequently on the way up - only the dream of an ice-cold Diet Coke keeps me going. Finally we reach this expansive stone building, collapsing on the porch as Melody (96 thru-hiker and caretaker) comes out to meet us. The main floor is rented out for the night, but we're welcome to bunk downstairs, and even use the kitchen until the guests are due. This is a "no-brainer" and as we cart our packs downstairs we meet Patty, offering us her car ("Stevie Ray") for a town meal - our first sample of "trail magic". Priority #1 - Diet Cokes and showers, both available downstairs, with the hot shower feeling heavenly. We chill quickly on getting out, spending much of the evening trying to warm up (Coleen says this is common in our dehydrated state). Clean, with our "best" clothes on, we get the briefing on Stevie Ray, and head for Berryville in search of Mexican food.

After parking we waddle across the street with what Coleen describes as the "Entz Walk" after her elderly relatives, feeling surprisingly incapacitated. We'd have rated the service horrid any other time, but tonight, it's wonderful, and our meals equally so. We gas up Stevie Ray and head back to the hostel feeling kingly. Coleen's out cold before her head hits the pillow, but I'm up a little longer working on my journal. Patty finishes her work on the wall mural and leaves, with lights at 10:00. Life is wonderful, but can we handle another day of the roller coaster?
10/22 Bear's Den to David Lesser Memorial Shelter (11.1 miles)

"After all, tomorrow IS another day"
Scarlett O'Hara - Gone With The Wind

We wake momentarily after midnight to the sound of the group upstairs coming in (we find they're Secret Service), getting up for good at 06:30. Melody makes our stay a gift, given the convoluted logistics - a nice gesture; and soon we're ready for another beautiful morning, stopping by the popular sunset overlook at Bear's Rocks. We're feeling great, and we relish the next portion of trail, with more coniferous trees and occasional quartzite outcroppings. Although still part of the "roller coaster", it's far easier than yesterday, and soon we're climbing Crescent Rock, a spectacular cliff formation.

Bear's Den Hostel, where we received our 1st ration of "trail magic" from Melody and Patty - Many Thanks
Our photo op here is cut short by a blustery south wind, and Coleen's anxious to return to the trail before we turn blue. Passing a red maple grove, we descend to the "Devil's Racecourse", a boulder field that's laughable in its name - only about 50 yards across. The undulating trail resumes, after lunch passing Blackburn Center, official end of the "roller coaster". The center's a short hike below the trail, so we drop our packs and hike down (what fun to "slack-pack" for a change!), finding it lovely, but uninhabited. The bunk house looks adequate (with a wood stove that a hiker wrote was so hot that he had to sleep "naked on top his sleeping bag"), and after filling our bottles from the tap, we sign the register and climb back to the trail.

The easy trail follows the ridge line, with a ridge of rocks piled to our left well over our heads; and soon the clouds thicken and the rain begins. It's short-lived, and we reach the David Lesser Shelter before expected - and what a wonderful shelter it is. There's a spacious porch, several benches, windows for light; and the picnic area even has a porch swing. We're glad to be here (with the shelter to ourselves), and Coleen takes the water bag down to the spring, as I collect firewood. It's slim pickings, though there's one big log that looks ready to split. I put a boot on one half, and pull with all my might on the other, but just as it's about to give the bottom half splits, with the unbroken half slamming like a bear trap against my right hand. It hurts badly, with the middle two fingers looking a little misshapen, although a quick inspection reveals I still have a good range of movement, so they're probably not broken.
I resume my chores a little older and wiser, and just as I'm about to go searching for Coleen, she returns, the spring being further than imagined. Soon the water's boiling, a fire going, and Ashley and Tabitha come walking down the path, and up to the shelter. It's an odd role reversal - only our 3rd day out, and now we've become the seasoned long-distance hikers, welcoming the weekenders. They're good company, and soon another couple guys come out of the darkness (Jeff & ?), filling the shelter nicely with minor adjustments.

As we all sit around the fire a full moon appears from behind the clouds, making for a gorgeous night and good conversation. We chat a while with the girls, and eventually Ashley turns in, followed by the guys, and us at 10:00 (needing some minor acrobatics to fly our food bag, as the only remaining hook is about 7' high - directly over the sleeping Jeff's belly) with Tabitha staying behind to tend the fire and reflect in its embers.
10/23 Lesser Shelter to Harper's Ferry (9.2 miles)

"Remember Red, hope is a good thing, maybe the best of things, and no good thing ever dies."
Stephen King - The Shawshank Redemption

It's a rough night, with Jeff up and down all night, victim of a raging case of Montezuma's Revenge. Coleen & I wake at 07:00 to the dawn of a beautiful sunrise, finding Jeff and his partner gone from the shelter, and both girls still asleep. At the pavilion I find Jeff's partner sleeping on the picnic table, the better to monitor Jeff's trips to the privy. Coffee knocks off the chill as the sun peeks over the next ridge, and soon the girls are up. The guys soon hit the trail, followed by us, both feeling good, but chilly. It'd be a great morning save the injury to my finger, now swollen enough to make gripping my pole difficult [Coleen insists on having it X-rayed, although with some argument, she lets me wait until after my Athens trip -- of course we'll find out then that it actually had a hairline fracture, leaving each of us convinced our choice was correct]. Along with the usual weekenders we pass about a mile's worth of Boy Scout troop 259, heading south (one could assemble an entire collection of gear from what falls off the outsides of their packs).

Fall color at Key's Gap
After Key's Gap the trail turns rocky, slowing our progress; with the wind, cold and rocks wearing on Coleen. At midday we reach the Harper's Ferry Park, promising a steep, rocky descent, and while I'm glad we're going downhill, it's tough on Coleen's knees. We finally reach the road, followed by a narrow footpath over the Potomac, very uncomfortable in the heavy traffic and the cold fierce wind (oddly enough, there are rafters on the river below). The trail bypasses town on a cliff trail; and in a bit the blue blazes point off to the ATC headquarters here. We find our way to the Center, dropping our packs there as we seek food and phone (there's a cute sign in the lav saying that this is where the "Appa-latch-ian Trail changes to the "Appa-lay-shun" Trail). We try the Hilltop House buffet, but the long, immovable line returns us to King's Pizza for the largest pizza and drinks on the menu.

Soon we're back home taking a while to chat with our missionary guests from Guam (who've been occupying our home in our absence) before hitting the very welcome jacuzzi. It's everything we'd expected - civilization's great - a steaming pot of chili, running water, electric lights, and out of the cold!.




Back Home Again

Our return to civilization is welcome, but surprisingly, the drudgery of "real life" quickly proves dull, and once the aches and pains are gone, we both long for the trail again. After a quick Athens / Istanbul trip, we prep for the Nov. section in earnest, Coleen feeling so pleased with her new pack that she has dreams of skipping down the trail supporting it on a single finger. We launch into food purchases with renewed vigor, and soon the accumulation of snack food makes our pantry resemble a college dorm room where one occupant has just received their first credit card from home.

Finally all is complete, counting down the hours until our launch; when God Himself intervenes to remind of the futility of excess planning. Four days prior to our departure, the trail is closed between Woody Gap and Neels Gap (the 3rd day of our hike) in raging forest fires, with 400 fire fighters summoned to contain the blaze. We discuss options, but ultimately it proves an exercise in waiting on His providence, which arrives over the weekend, as diminished winds allow the blaze to be contained, and the trail reopened. Valhalla awaits!!